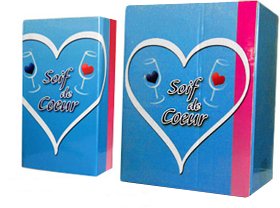 The Stake
The company Omnivins, a wine merchant from Bordeaux is launching during March 2007 a new range of wines, christened Soif de Cœur, associated with a dating-meeting website on the Internet : Chance Meeting !

« They are eight million people who live alone in France. The idea is to facilitate meeting through the conviviality of a product like wine. » points out the Sales Director of the company Omnivins working in close collaboration with Imaginform on this project.
The Objective
Associate with a wine « Soif de Cœur » a fun dating-meeting website. All the details of the game are given on the back label of the bottle, as how to get on the website. A secret code will appear on the inner side of the back label, when the bottle is empty, this code will allow the buyer to meet another Soif de cœur amateur.
Putting the website online
The website is online, the bottles are already in supermarkets. we expect lots of visitors.