The Stake
The comapany ELYSAIR recently created airtravel professionnals sponsored by the Rothschild Business Banque launches the low fare line Orly - New York for Business Class only
The Objective
In order to optimise their market survey and to carry out an optimal mix marketing, The communication the marketing direct agency IB Conseil takes care of the textual content of a questionnaire.

This questionnaire will be submitted to several tenth of thousandprofessionnals in the Paris region, via an emailing announcing the openning of the low fare line Orly – Newark (The second New York airport)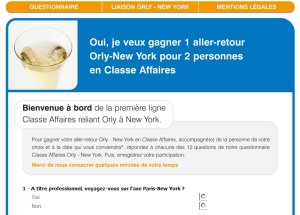 Putting the website online
Launching the website and an targeted emailing campaign (170 000 BtoB in the Paris region). The results come quickly and are of good quality :
26% opening,
29% clics,
3400 subscribers Opt'in,
4000 participants to the game,
4800 questionnaires usables.

This operation has allowed ELYSAIR to optimise its survey and look forward to the opening of new low fare lines.

Further more 3400 subscribers have been contacted on the occasion of the effective launching of www.lavion.com, the website saling low fare tickets (1000 first tickets A/R à 1000€).

Bilan: 360 sold in 7 days .

At the same time, creation advertising animated banners to publish on specialised websites.