The Stake
This is an industrial site for urban waste incineration, including 2 boilers and an 11Mw turbine. Management, production and maintenance personnel must have access to process data at all time.
The Objective
To collect process data sample every 5 seconds to provide high quality graphics / curves. Data is then agregated to minutes, hour and day averages to provide reporting. The objective is to backup data outside the industrial site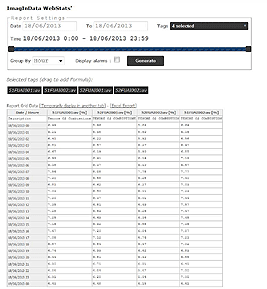 Reports
Reports are created on demand.
Average data minute base can be exported. Reports hour or day are displayed by selecting beginning and end date
A section is reserved to mill reporting, the user can create its own reports.
For any information please contact us..